Description
Info
Save Time and Money
TruckClaws™ II should be stowed in every truck you and your family members own. You never know when you or a family member will need them. TruckClaws II Off-road kits are the perfect companion for your weekend off-road adventures and belong in your vehicle recovery toolkit.  Truckclaws customers have told us stories how TruckClaws literally saved their lives, such as a hunter being stranded on a trip in the middle of the wilderness in freezing temperatures.  TruckClaws can also get your RV or ATV moving again after you park it on a sandy beach. TruckClaws can get your pickup truck out of the mud on a job site. The scenarios in which TruckClaws II are an extremely valuable truck recovery tool are virtually endless. TruckClaws II is made of super-strong aircraft-grade aluminum making them a durable, reusable, and powerful traction aid that can get your Truck, SUV, Jeep, RV, or ATV unstuck from snow, ice, sand or mud quickly and safely. TruckClaws II is easy to install and can be installed after you get stuck. You can even install TruckClaws over conventional snow and tire chains.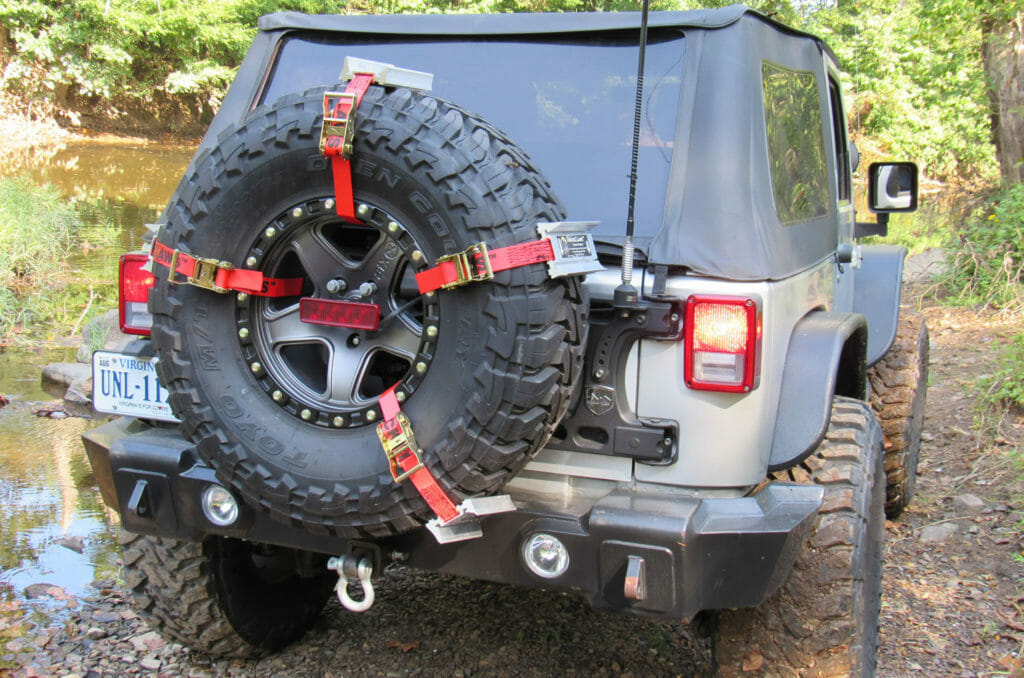 Everything You Need
Each off-road kit comes with four "Claws", six 48″ straps, six ratchets, 2 Extender bars and a carrying case.  This kit is specifically designed for Off-road enthusiasts and individuals who often find themselves in situations where there is a considerable risk of getting stuck. Always consult our instructions for proper and safe usage and always watch your wheel clearances. Do not use TruckClaws on wheels with plastic rims or wheel covers, remove them first. If you are looking for a solution for light trucks that is not for frequent use, consider our base model TruckClaws II kit.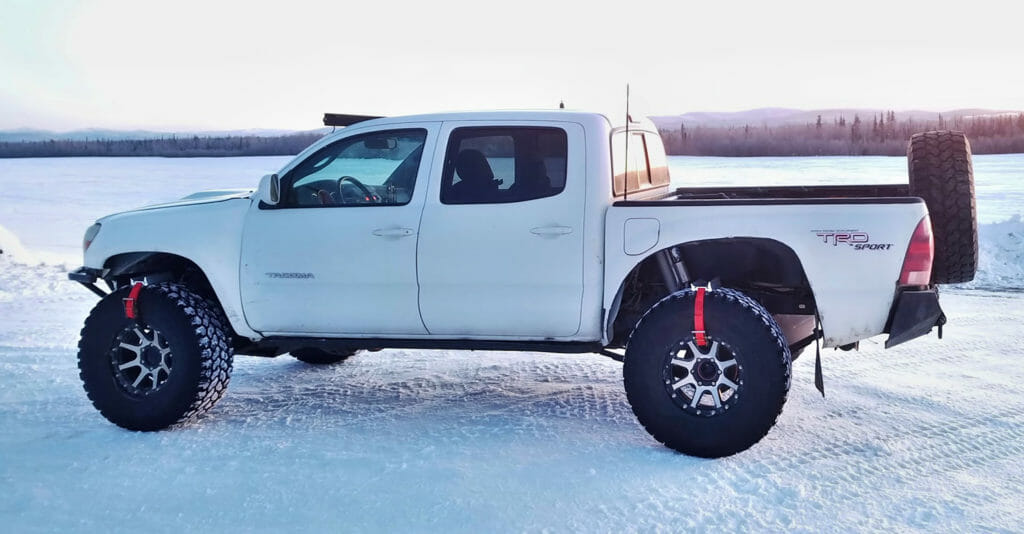 Compatibility
Wide Vehicle Compatibility
TruckClaws II kits work on a wide variety of trucks and all terrain vehicles with a gross vehicle weight rating of 30,000lbs or less. For anything more, such as a semi-trailer, firetruck, dump truck etc., our TruckClaws Commercial product should be used. Below is a list of some of the many vehicle types that TruckClaws II work great with!
Wheel Clearance
TruckClaws Require 2.5 Inches or 6.4 Centimeters of wheel Clearance to operate. Additionally if there is a brake caliper behind the wheel there must be clearance to thread the strap. Almost all vehicles meet this requirement but there are exceptions. You can either measure your wheel clearance prior to purchase, or buy a set and test them out. We offer a 30 Day return policy in the event TruckClaws do not fit your vehicle. If you are unsure if you have enough clearance we advise measuring your clearance and going slow when you test them out. Remember to follow the installation directions included with your kit. Never install TruckClaws II on wheels with plastic rims or hubcaps, remove them first.
Strap Clearance
TruckClaws require an opening in your rim to insert the strap. If you only have small holes in your rims the strap can be curled to thread it through the wheel.  Do not install the TruckClaws Strap over or next too the tire's air valve stem. In some rare cases there is only one hole in the rim which happens to be where the air valve stem is also. In this scenario please contact us first to try and fabricate a custom solution for your vehicle as pictured below.
Install
Installation & Warranty
Please review installation options below. Your TruckClaws II kit will include instructions and warranty information in the package. This information can also be downloaded using the button below.
TruckClaws II Off-road Recommended Kit Install
4 Wheel Drive and Rear Wheel Drive Vehicles
A single TruckClaws II Offroad kit comes with everything you need to install two traction cleats on both your left and right drive wheels. When installing on both 4 wheel drive and rear wheel drive vehicles we recommend installing both kits on the rear wheel drive tires in roughly the 9 O'clock and 2 O'clock position as pictured below. We recommend installing on the rear wheels so you are able to turn your steering wheel during vehicle recovery, without having to worry about the reduction in clearance caused by this action. If you own an off-road vehicle that is lifted  this warning might not apply but always use caution and be sure that you have plenty of clearance.

TruckClaws II Off-road Alternative Kit Install
4 Wheel Drive Vehicles
Having two claws installed on each of the rear wheels will increase traction as you will grab twice as often per rotation. We are aware that some off-road enthusiasts prefer to install one traction cleat on each tire on their all wheel drive vehicles and we understand that  some circumstances might call for it.  
During use of the TruckClaws II traction device whenever any traction cleats are installed on your front tires, you must keep your wheel straight in order to maintain the required 2.5 inches of wheel clearance. If you own an off-road vehicle that is lifted,  this warning might not apply but always use caution and be sure that you have plenty of clearance before each use.

TruckClaws II Alternative Off-road Kit Install
Front Wheel Drive Vehicles
While front wheel drive vehicles are not typically used by off-road enthusiasts, we do understand that some of you might consider our off-road kits if you often get stuck. If you decide to purchase our off-road kit for your front wheel drive vehicle, we recommend that you first attempt recovery with only one traction cleat on each front wheel first. Usually this is all you need to get unstuck. Furthermore, extender bars are not recommended for use on front drive vehicles due to clearance issues, so we suggest saving some money and simply purchasing our basic TruckClaws II kit.
If you still wish to purchase an off-road kit we advise that you exercise caution. During use of the TruckClaws II traction device, you must keep your steering wheel straight in order to maintain the required 2.5 inches of wheel clearance. If your truck is lifted and there is a very large amount of clearance this caution may not be applicable to your vehicle, but doing so will be at your own risk.
TruckClaws are emergency traction aid devices designed to be removed immediately after use. TruckClaws will not be responsible for any damage to your fender or anywhere on the vehicle so please heed this warning, follow the installation instructions closely, and go slow and test them out on first use.
A) Two cleat configuration

B) Four cleat configuration

TruckClaws II Extender Bar Install
Installation
Your TruckClaws II Extender Bar Combo Kit will include Extender bar instructions in the package. This information can also be downloaded using the button below.
How To Use Extender Bars
Extender bars are useful when you are really stuck and need additional grip. If your truck is dug in very deep and essentially stuck on high center, extender bars can also help get you out. Laying a log, tree limb, or piece of lumber parallel to the tire and then having the extender bar come down on it slowly, can lift your vehicle out. Extender bars are intended for use when stuck in deep mud or even sand. We do not recommend use in the snow as it is possible that the extender bar can come loose from the cleat and get lost in deep snow! We strongly advise ONLY using extender bars on your rear drive wheels so there are no issues with clearance. To use your extender bars you simply slide them into the traction cleat until they are stopped by the pre-installed set screw. Always attempt recovery without the extender bars first. This will make sure everything is tightened properly and set correctly before sliding the extender bars into position.
Video